Stunning Kitchen Remodel: Completely Transform Your Kitchen with a Modern Makeover!
Umland Dr Santa Rosa, CA, US, 95401
Description
Are you looking for a way to completely transform your kitchen and give it a modern, fresh look? If so, then a kitchen remodel is the perfect solution! With just a few changes, you can have an entirely new kitchen that looks stunning and sophisticated. A kitchen remodel involves more than just changing up the color scheme or adding some decorations; it requires an overhaul of your existing kitchen layout and design. You'll need to carefully consider your desired outcome when deciding on the best approach to remodeling your space. From selecting new cabinets and appliances to choosing countertops and flooring, there are many elements of a successful kitchen makeover that will be sure to make your space stand out. Additionally, proper lighting can also dramatically improve the overall look of your kitchen by creating ambiance and highlighting certain features in the room. Finally, don't forget about incorporating some personal touches like artwork or knick-knacks that add character and warmth to the room. With thoughtful planning and careful execution, you can create a beautiful modern kitchen you'll be proud to show off!
What to Expect for a 10x10 Kitchen Remodel Project and How to Keep Costs Low
A 10×10 kitchen remodel can be a significant investment, but it's possible to keep the costs down with careful planning and by shopping around for the best prices on appliances. The overall cost of remodeling your kitchen in this size will vary depending on the materials you choose, and the complexity of the project. Generally speaking, a basic 10x10 kitchen remodel should cost between $15,000 and $20,000 while a larger more complex one could range up to $25,000 or more.
When factoring in the cost of the remodel, it can be helpful to consider each element separately such as cabinets, countertops, and appliances. Cabinets are typically the largest expense in terms of square footage since they are often custom-made. For a 10x10 kitchen, you can expect to spend anywhere from $1,400 to $2,400 on new cabinets. Countertops will also factor into your budget; solid surface countertops like granite or quartz are popular choices but come at higher prices than laminates which start at about $35 per square foot. Appliances are also an important consideration when it comes to price; if you want top-of-the-line models they could easily cost several thousand dollars each. While these higher-end models offer superior performance and features they may not be necessary if you don't plan on using them regularly or simply have other priorities for your budget.
Installation costs should also be factored into your budget; cabinet installation usually runs between $100 and $200 per linear foot while countertop installation is another fee that needs to be taken into account. Finally don't forget about any finishing touches such as backsplash tile, trim pieces, or hardware that can add personality to your kitchen space but also come with an additional cost.
Overall when planning for a 10x10 kitchen remodel you should plan on spending somewhere between $15,000 -$25,000 depending on how elaborate you make it. By making careful decisions about what materials and fixtures you choose as well as keeping an eye out for any discounts available during construction season you may be able to save some money without sacrificing quality and style in your home's kitchen space!
Here's What You Need to Know About Complex Kitchen Remodel
Custom kitchen remodeling projects that involve more than just replacing the existing components can extend beyond the average 10-12 week timeframe. Depending on how complex the project is, it could take up to sixteen weeks or longer. 
For custom kitchen remodels, it's important to have a plan in place before work begins. Detailed measurements should be taken of the existing kitchen space so that there is an accurate map for contractors and designers to refer to. All new materials and fixtures must be ordered and delivered before the project can begin. It's also a good idea to factor in any unexpected delays due to weather, supply issues, or other unforeseen circumstances. 
The team responsible for completing the project should include skilled professionals such as architects, cabinetmakers, plumbers, electricians, painters, and flooring specialists. Additionally, any structural changes that need to be made in order to a reconfiguration of the floor plan should be handled by a qualified contractor. In some cases, permits may also need to be obtained from local authorities before construction can begin. 
Such detailed plans take time to draw up and execute correctly; therefore it's important to allow ample time during both the planning and execution process when setting expectations for the completion of a custom kitchen remodel. With proper organization and communication between all involved parties, such extensive kitchen renovation projects can come together beautifully—but preparation is key!
You Envision It - We Build It: Get The Kitchen You Want For Your Family
At Golden Heights Remodeling, we are the premier kitchen remodeling contractor in the Concord area. Our team of experienced professionals is committed to helping you make your dream kitchen come to life. We understand that remodeling a kitchen is an important investment, and we strive to ensure that our clients get exactly what they want at a price they can afford.
Our team will take care of every aspect of the project – from design to installation – so that you don't have to worry about anything. We use only top-quality materials and stay up-to-date on the latest trends, so your new kitchen will always look and feel modern and fresh. We also use state-of-the-art tools for accurate measurements so that all of our work is precise and perfect.
We can work with any budget, too! Whether you're looking for something basic or a full custom remodel, we can help you create the perfect kitchen for your home. And if you need some inspiration, be sure to take a look at our gallery of previous works so you can see what kind of transformation we can make in any space.
At Golden Heights Remodeling, customer satisfaction is our top priority. That's why we offer unparalleled customer service with flexible appointment times, clear communication throughout the process, and competitive rates for all our services. Don't just take our word for it – read what our clients have said about us online or contact us directly to ask questions or get started on your project today!
Gallery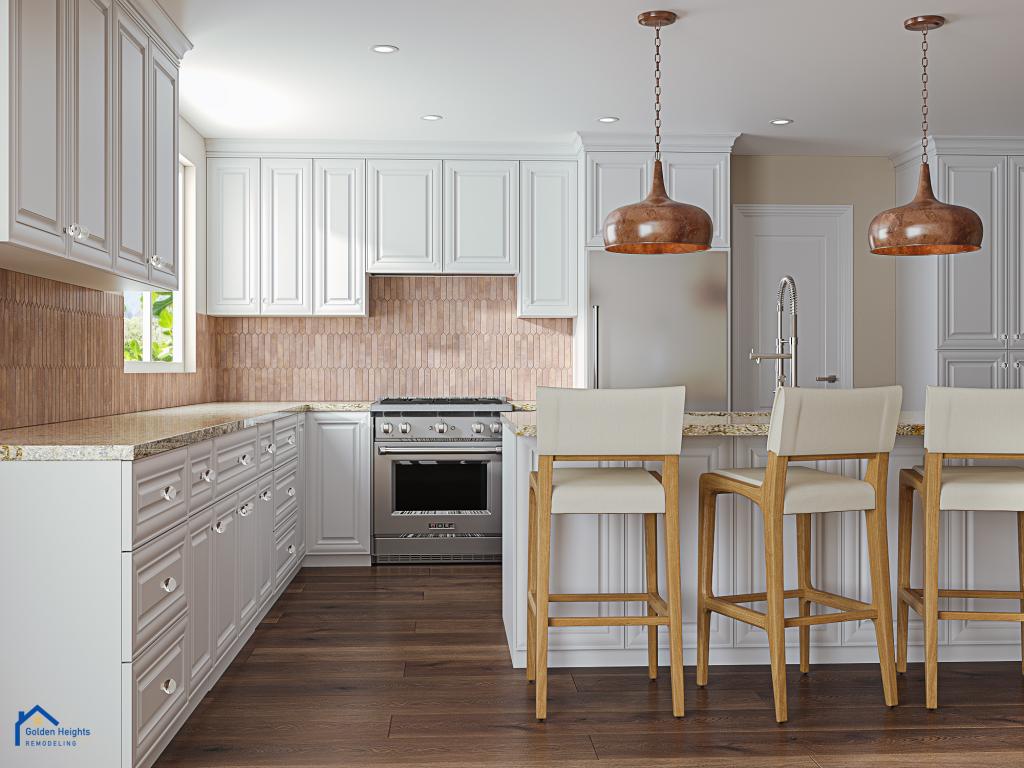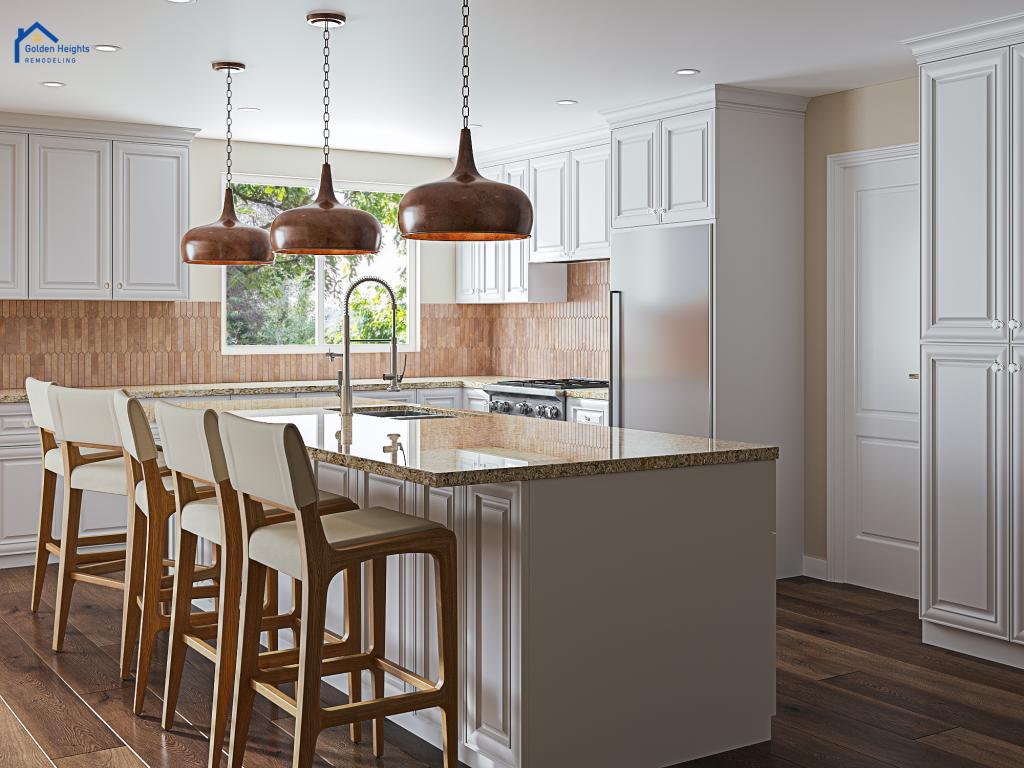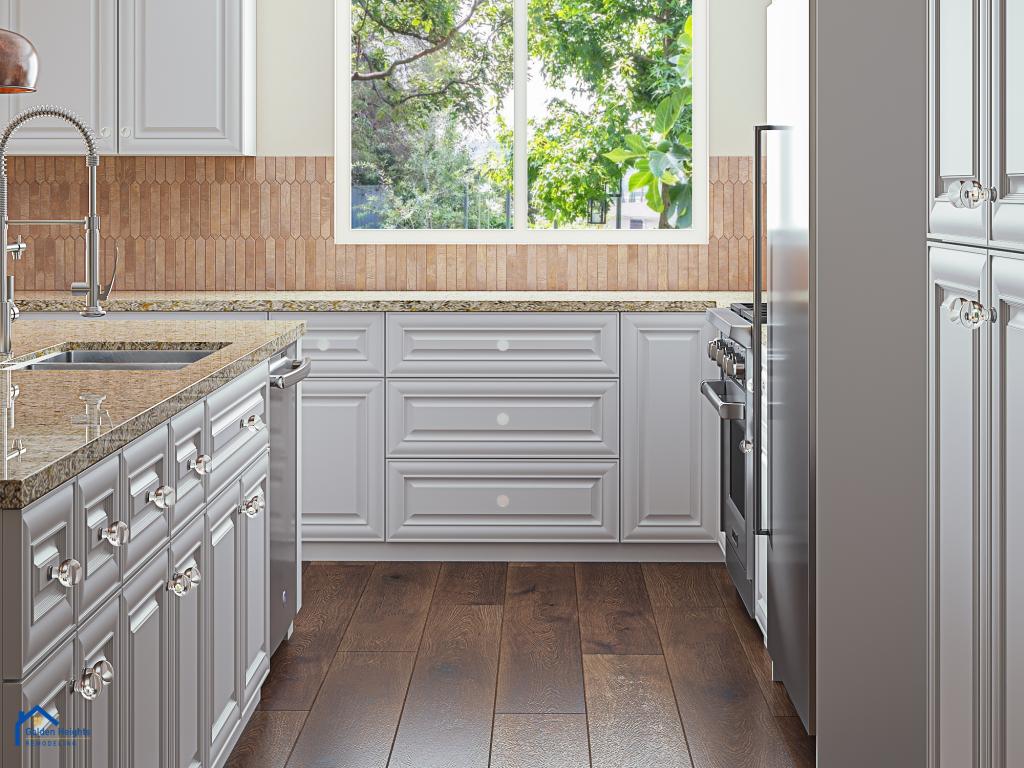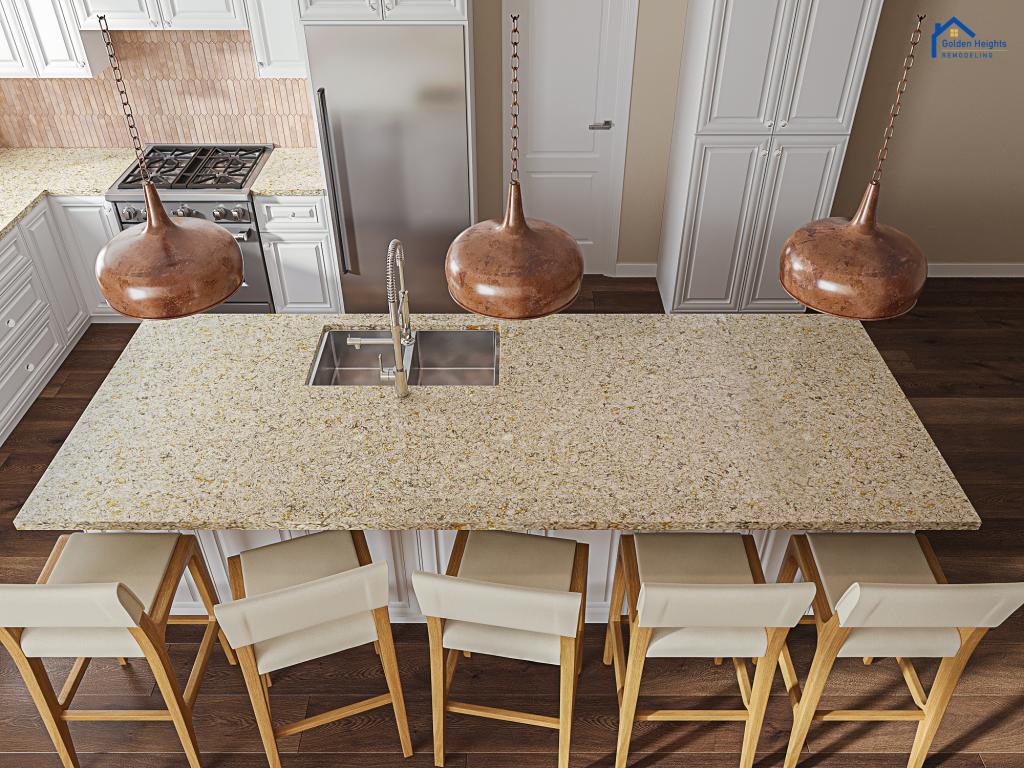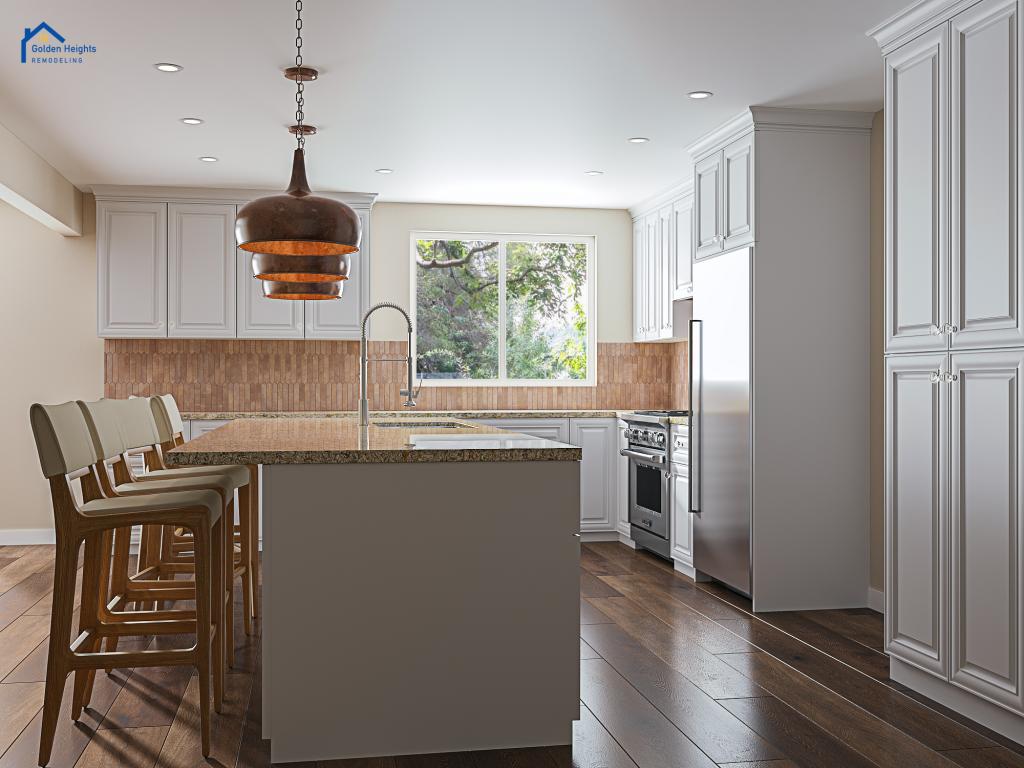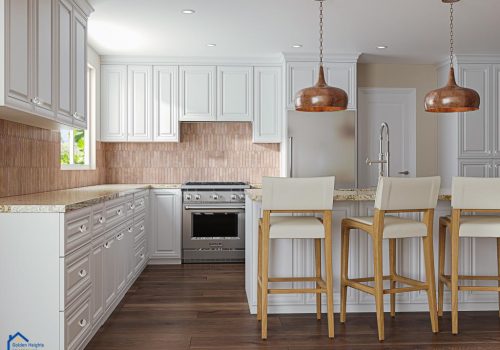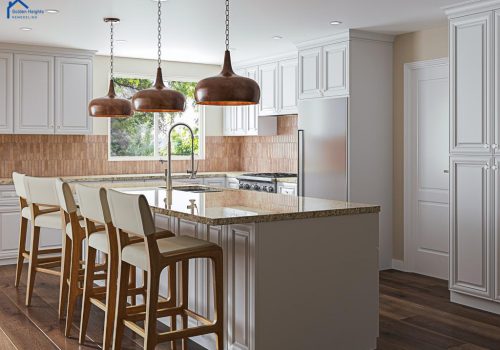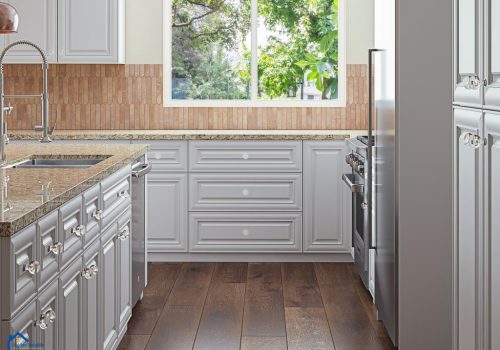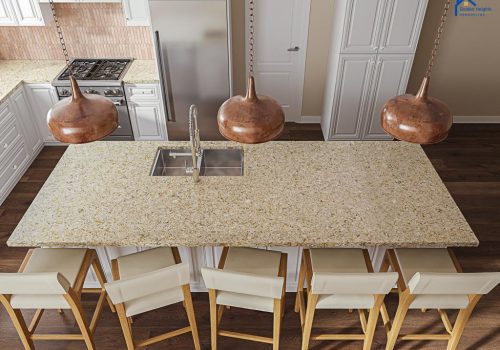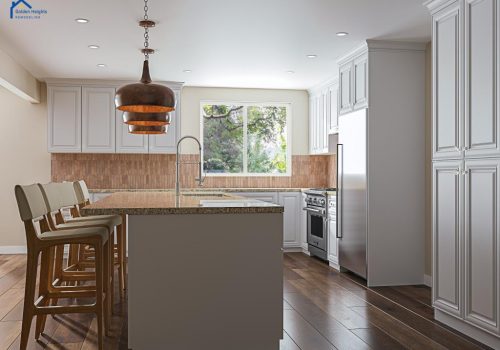 Comments
About Us
Get The Kitchen of  Your Dream With Us!
Recent Projects
Umland Dr Santa Rosa, CA, US, 95401