When you're ready to tackle a home remodel, there's a lot to consider. One of the most important things is preparing your home for the construction process. Here are some tips to help you get started!
First, remove everything from your kitchen cabinets and pantry to the garage or basement. Second, do a thorough decluttering of each room in your house. Third, shop for supplies ahead of time. Having everything on hand will help the construction process go smoother. Fourth, make sure you have a designated space for everything that needs to be moved out of your home during construction. Fifth, prepare yourself mentally for chaos and destruction. Remodeling is messy and can be disruptive to your daily routine. It's important to be prepared for this so you can stay calm and focused during the process. Sixth, know your limits – don't try to do too much yourself – know when to call in professional help! Seventh, plan and budget accordingly! Home remodeling can be expensive so it's important to create a realistic budget and stick to it! Eighth, have someone watch the kids and pets if possible – this will help reduce stress and allow you to focus on the task at hand!
Remove everything in your kitchen cabinets and pantry to the garage or basement
It is important to remove all the items from your kitchen cabinets and pantry before commencing the renovation. You should also move everything into another part of the house, such as your garage or basement. If you do not have enough space to store all of this stuff in one place, you may need to enlist a friend or family member who can help out temporarily.
When moving your items, be careful not to damage things like walls, floors, or cabinets. You may want to put padding down first to avoid scratches or other markings. It is also important to have a plan for where everything will go when it is time to put it back. This will save you time and frustration later on.
Do a thorough decluttering of each room in your house
You're going to need to remove everything from the room—and that's not a suggestion. It's not just the stuff you want to get rid of; it's also the stuff that's currently in storage and has been sitting there for months or years. The goal is to make sure that every item remaining in your house is either useful or sentimental, and if it falls into neither category, it needs to go.
If you're unsure about an item's usefulness, ask yourself if you've used it within the past year. If so, great! Keep using it! If not? Time for some tough love: give up on keeping things around just because they seem nice or special enough someday.
Shop for supplies ahead of time
If you're going to be re-doing your kitchen and bathroom, start shopping for materials ahead of time. You don't want to run around at the last minute trying to find everything you need; it will most likely result in a lot of frustration and extra costs. When you go shopping for supplies, remember to buy paint and paint supplies (paint brushes, rollers, etc.), tile and tile supplies (tools), and hardware for cabinets and doors. Before buying new flooring, get some samples so that you can make sure what looks good online also looks good in person.
Have a place to put all of your stuff
Make sure you have space for all of your stuff. If you haven't done so already, now is the time to clear out some space and figure out what will be going into storage. You don't want to be scrambling around the house trying to find a place for everything while your contractor is yelling at you because they can't finish up before their next job starts in three days!
Also, remember that if you're planning on installing new flooring then get some samples so that you can make sure that what looks good online also looks good in person before buying enough products for all rooms being remodeled. This includes big things like furniture and recreation equipment but also smaller items like tools and spare parts. It's also important to plan how these things will get back into their normal locations once construction is done.
Prepare yourself mentally for the chaos and destruction
Prepare yourself mentally for the chaos and destruction. Once a contractor takes over your home, it's going to be in upheaval for weeks or even months.
They'll remove any furniture and cover it in plastic wrap. They may also need to remove other things like lamps or curtains so that they can continue working without obstruction.
Moving large furniture (like beds) can be difficult to move alone before work begins. We recommend that you avoid moving around heavy objects during construction.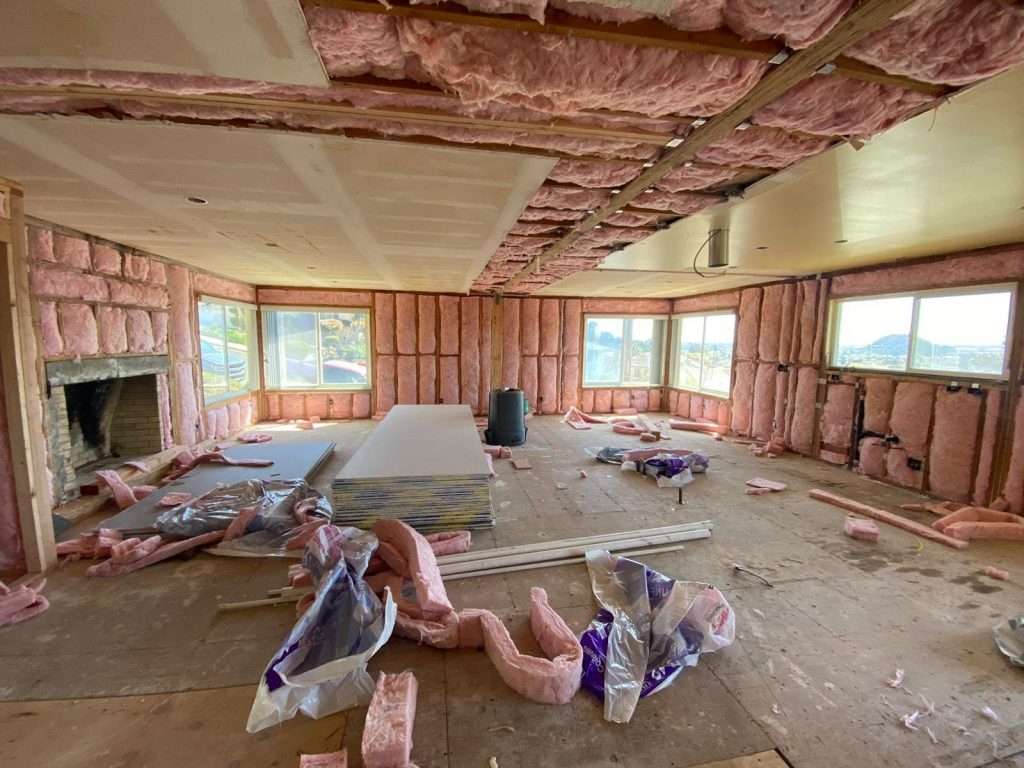 Know your limits
Know your limits. If you're new to DIY, it's important to know when you need help—and when to call in a professional. Sometimes, if the project is too big or time-consuming, it's best to hire professionals who have experience handling similar tasks. For example, if you're not experienced at laying tile or installing an appliance and don't feel confident doing so yourself, it may be worth hiring someone who has done this type of work before instead of taking on that part of the project yourself.
Ask for help from friends and family members first. You can also ask for help from friends and family members before hiring contractors or cleaning services; they might be able to give advice on how best to complete certain aspects of a remodel without charging for their services upfront (and there's nothing wrong with asking!).
If you do decide to hire someone, make sure you ask for references and check them. You should also find out if the person has a license or insurance. It can be tempting to just go with the first person who seems capable and affordable. But it's important to do your research first so that both parties are protected from future problems.
Plan and budget accordingly
The primary reason to plan and budget for anything is so you can prepare yourself for the unexpected. Remodeling projects are expensive, so it's important that you have a solid plan and budget in place before starting. It's so important to plan for unexpected expenses when you're remodeling your home.
For example, let's say your house needs new windows. You know this will cost $15,000 and decide that it's well within your means (and hopefully even in the realm of affordability). You'll need to figure out how much money you'll need each month to cover the installation of those windows. Once you have that information, go back over your budget again—just in case! The last thing anyone wants during a remodel is for something else to spring up on them unexpectedly; however unlikely that may seem, it happens more often than not if there wasn't proper planning beforehand.
So make sure your contractor knows exactly what kind of work needs to be done before getting started with any type of building project; if not, then ask about potential pitfalls beforehand so both parties can avoid unnecessary strife down the road.
Have someone watch the kids and pets if possible
If you have children or pets, it's best to make sure someone can watch them for a few hours. Depending on the age of your kids and how long you'll be gone, you may need to arrange for someone to come over and stay at your house while the remodel is being done. If this isn't an option, try keeping them busy with activities that don't require much supervision or supervision from inside the house (like going outside). You'll also want to keep all pets out of the way as much as possible during this time so they aren't too stressed by all the noise.
Remodeling is hard but it will be worth it when it's over
Remodeling is a long, difficult process. It can be overwhelming and stressful, but it's worth it in the end. You will enjoy your remodeled home for years to come!
Be prepared for the time and effort involved in remodeling. Remodeling takes longer than expected—especially if you are doing it yourself or working with an inexperienced contractor. If you're working with a contractor that has done many projects before, they'll be able to stay on schedule more easily than someone whose first time is now yours! Planning early is key when it comes to completing your project within budget and on time because once things get started there are often unexpected setbacks that prevent you from meeting deadlines as planned.
Be sure to get an accurate estimate of how much time it will take to complete the project, and consider whether or not you have enough free time in your schedule to devote several weeks or months to the remodeling process. Also, make sure that you have a good relationship with any contractors who will be working on your project so that they can stay on task and help keep the work flowing smoothly.
Conclusion
From start to finish, renovation can be a time-consuming and stressful process. These tips will help you make it easier to do. By preparing your home for a remodel with some organization and any necessary repairs beforehand, you will have less stress and less work to do during the initial project. Even before the workers arrive at your home, there are changes that you can make to make the remodel simpler and less overwhelming. If you are unsure about which improvements to make or what exactly needs to be done, consider hiring a professional home inspector or contractor to help you assess your home and create a remodel plan.