Ensuring that you're getting the most value for your investment.
Are you considering remodeling your home or office? Or maybe building something new? It can be daunting, with so many choices to make and contractors to choose from. But don't worry, we're here to help! So whether you're a first-time homeowner or a seasoned pro, read on for some helpful tips. Happy renovating!
End-to-End Design, Planning and Execution for Construction & Remodeling
You can leave the design work and plan on the talented team of Golden Heights Remodeling. We strive to achieve better results for our clients.
Golden Heights Remodeling is a fully insured and licensed contractor to provide you the best assistance and service for your home remodeling and construction projects. Our team has excellent architectural design and technical expertise for a wide range of projects. We make sure your construction and remodeling projects are completed successfully.
For a remodeling project or construction work, there is a need to obtain construction permits. A permit is essential, as the project may require plumbing, electric, or mechanical work. We pull the site plans and interact with the relevant bodies of your jurisdiction.
Our Team Gets Approval From Certified Experts
We do all the legwork to take the headache off your shoulders. Our goal is to bring you better design and construction results.
Architectural and Effective Engineering Plans
Do you want to add a room, convert a garage or build a patio cover? Then all you need is a proper plan.
You can trust us to get the best engineering and architectural plans for your project. We prepare the best plan with the details and specifications on how the project execution as per the local city codes and regulations. Our licensed registered professionals handle your architectural and engineering plans. As a competent general contractor, we provide you the best advice on how to design your house not only to make it aesthetically pleasing but also in a way that will save you money during construction or remodeling work.
We work with architects and engineers who excel at translating clients' vision into functional, cost-efficient, and beautiful plans. We offer expert consultation on sustainable design and construction. We ensure that our clients can save money, save time, and have peace of mind. Our goal is to achieve your complete satisfaction after the completion of the home remodels or construction project.
Other design and planning services we offer include:
To ensure your project is managed smoothly from start to finish,  contact us today at (800) 521 0950!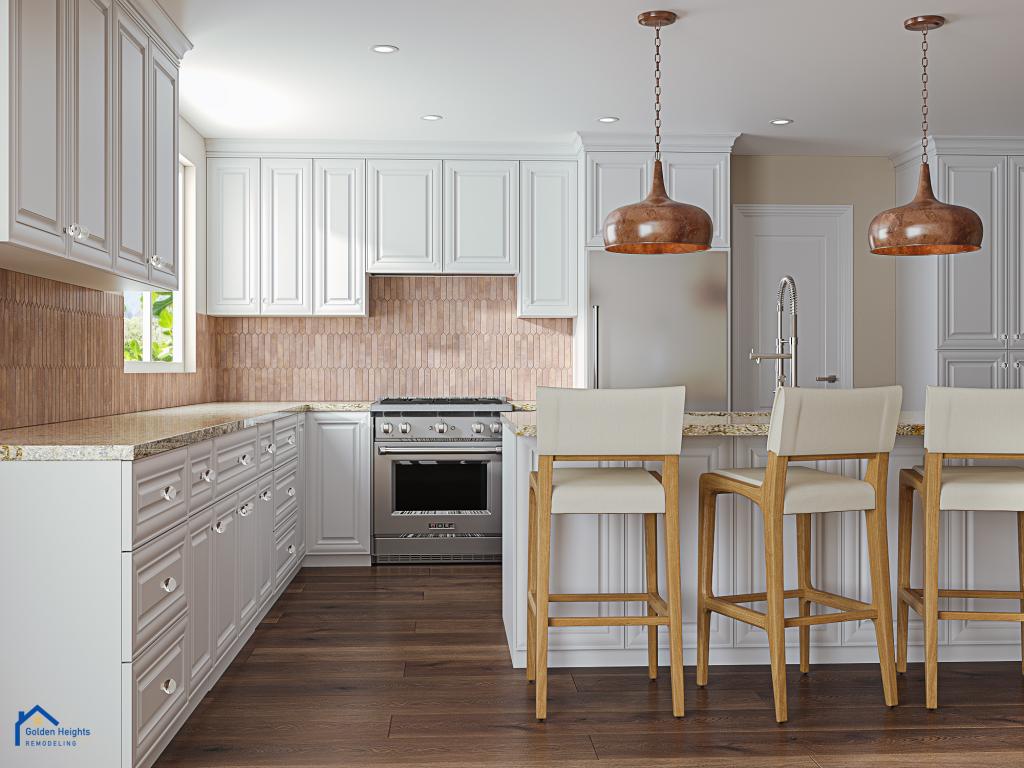 Turn your outdated kitchen into a dream kitchen with our remodeling services. Golden Heights Remodeling specializes in complete kitchen and bathroom remodels.
We offer the most comprehensive warranties and contracts in town!
The end product is something you'll have for years to come, so it pays off in the long run when we work together. We take every issue seriously and make sure there aren't any hidden details that could arise later on downrange; this protects both yourself as well any possible future beneficiaries from unforeseen circumstances should anything go wrong during our time working with one another. You can rest easy knowing that your purchase is backed by quality and service warranties.