If you're in the market for a bathroom remodel, you've likely asked yourself this same question at least once, is bathroom remodeling worth it? Well if you're like most homeowners, your bathroom is one of the first spaces in your home to get a makeover. And it's not hard to see why, bathrooms are often small dark spaces that need a little extra light and brightness.
They're also the place where we brush our teeth and wash our hair, so they're the ideal place to start when it comes to home improvements that can make a big difference in how we feel when we wake up in the morning and return home after a long day. But before you get started on your next bathroom remodel project, there are some important questions you should answer: Is it worth it? What kinds of returns are possible? How much will it cost me? How long will it take?
In this article, we'll look at the things that you should consider before deciding whether or not bathroom remodeling is right for you.
If you're thinking about selling your home, bathroom remodeling will add value
Bathroom remodels can add value to your home. Who doesn't love a nice bathroom? When you're selling your house, a newly-remodeled bathroom is one of the first things potential buyers will see.
A well-maintained, updated bathroom is expected by most people looking for a new home. So if you're planning on selling your house someday, consider spending some money on it now; not only will this make your home more attractive overall but also help increase its resale value.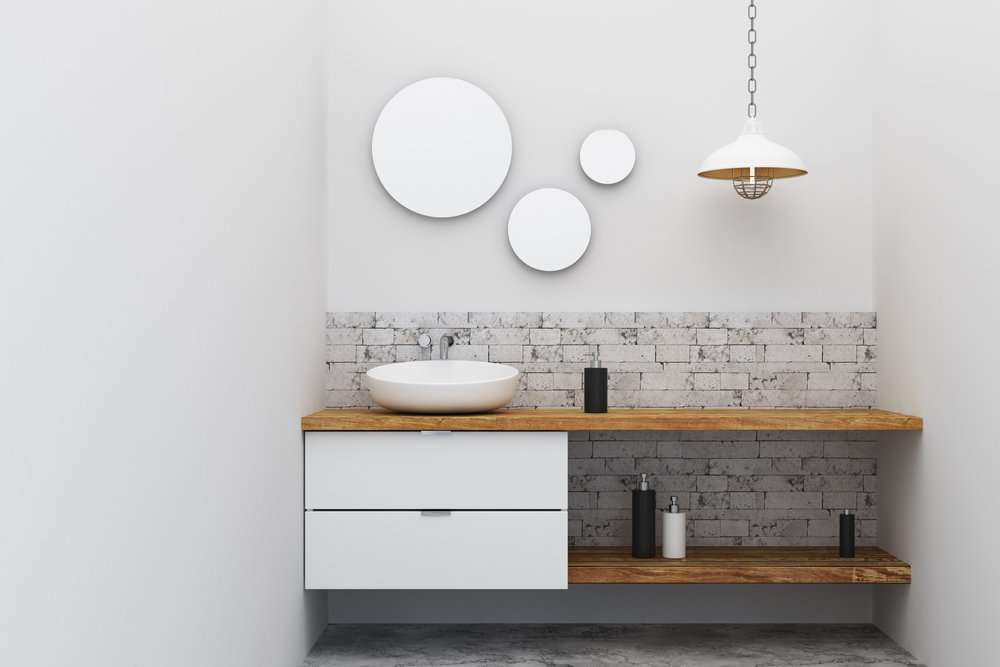 Remodeling your bathroom is a great way to increase the value of your home
Bathroom remodeling is a good investment, especially when you consider the return on investment (ROI). A bathroom remodel can be done for far less than other types of home improvements, and it usually has a higher ROI than other forms of home improvement.
Some homeowners may have avoided remodeling their bathrooms because they don't know where to begin or how much it will cost them. While there are many options available when it comes to adding value to your home through renovating your bathroom, there are some important factors that need to be addressed before starting any type of work beyond cosmetic changes such as painting walls or replacing fixtures like faucets or toilets.
Bathroom remodeling can change your life!
Bathroom remodels can make your life easier and more enjoyable. The bathroom is the one room in the house where we do everything, from brushing our teeth to taking a shower to getting ready for work or a night out with friends.
The bathroom is also an essential part of our homes because we spend so much time every day and if you're like most people, it gets messy over time! Bathroom remodels can improve your quality of life by giving you more space and making sure everything works properly.
A good layout will allow traffic to flow through the room smoothly while keeping things organized so there's no clutter on surfaces or around toilets. This will help keep everyone feeling comfortable when they use their bathrooms daily. It'll also make cleanup easier, so if something breaks down unexpectedly, then fixing it won't take as long because there'll be less stuff cluttering up your space.
There are widespread flaws in bathroom design that are remedied by a remodel
Bathrooms are almost always smaller than any other room in your house, and sometimes they're so small that you can't even fit all the things you need to do in there at once. Remodeling is a great way to improve this problem by adding space or by making better use of existing space. For example, if your bathroom doesn't have enough storage or countertop area for your needs, a remodel will give you more options for increasing these areas.
As you can see from the list above, bathroom remodeling is worth it for both now and in the future. It's not just about making your life easier and more enjoyable, but also about long-term financial planning.
Bathroom Remodeling Tips
If you're planning a bathroom remodel, you probably want to know what the best way is to approach it. Here are some tips that will help you navigate the process.
Always buy a slightly larger toilet than you think you need
Given that toilets can cost $200 or more, it's crucial to choose one that will fit in your bathroom. Toilets are notoriously difficult to replace, so you don't want to have to do it again down the road.
If you find that you need more space than what's currently in your bathroom, there are some options. You can always remove some tile from around the toilet area and install a larger one if needed, but remember that this may affect how well your new flooring matches up with other areas in your home.
Leave plenty of space for the shower door to open and close
When you are designing the room, leave plenty of space for the shower door to open and close. If your bathroom is small, you may want to consider a pocket door or sliding glass doors. This will give you more floor space in the rest of the room. You can also get creative with your design by incorporating shelves into your shower area instead of having a towel rack or toilet paper roll holder in front of your mirror.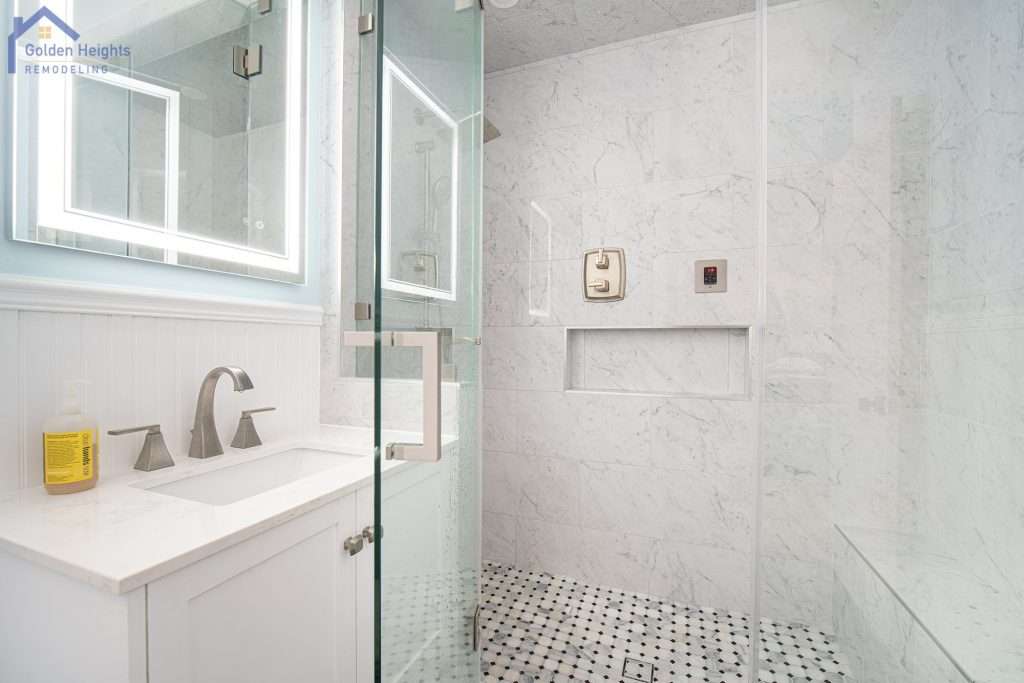 Bathroom remodels work best when done in a particular order
If you have a small space, start with the shower and move down to the sink and toilet. If your room is large enough, it's better to start at the top of your bathroom and work down from there.
Whatever you do, leave plenty of space between your new fixtures and walls so they can be installed easily without a lot of digging into drywall or plumbing lines running parallel to your walls. And don't forget to make sure there's enough room for doors or panels before you start cutting into them.
Lastly, always buy a slightly larger toilet than what seems necessary, the last thing anyone wants is an overflowing toilet on their first morning after finishing up that new bathroom remodel.
There are many ways to remodel your bathroom, and we've just given you some of the best tips.
We hope that reading this post has given you some inspiration and helped you understand any ambiguity over how to begin your upcoming renovation.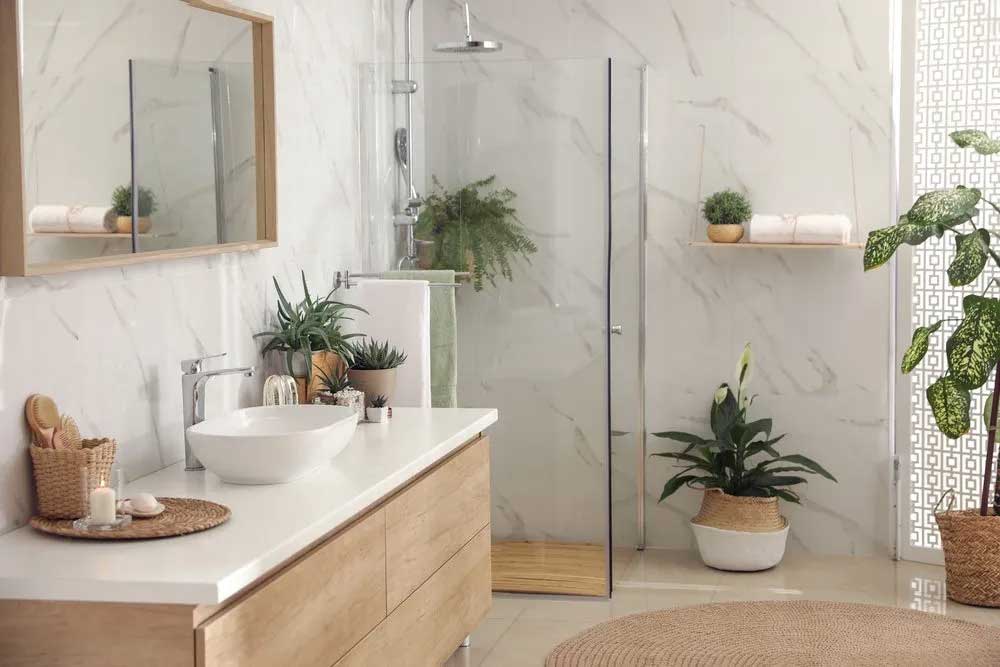 Are you looking for a Bathroom Remodeling Service?
If you're looking for reliable and professional remodeling services, you can't go wrong with Golden Heights Remodeling INC. We've been serving Concord, CA homeowners, and businesses for years, and our experienced team knows how to get the job done right. We're always up for a challenge, so no project is too big or too small for us.
We also offer kitchen remodeling, landscape design, full home remodeling, garage renovation, roofing, paving, and more. Call us now for all your home remodeling needs!